0
January 18, 2019 by al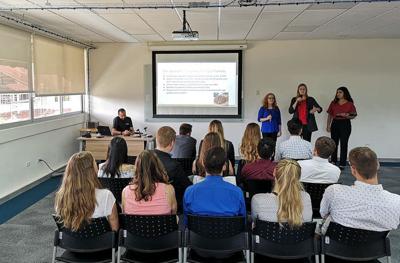 Twenty-six College of Business students from the University of Nebraska-Lincoln explored Panama City and worked on development and export projects for two weeks over winter break, from Dec. 29, 2018 to Jan. 7, 2019.
The students divided into groups to focus on different areas for their projects: tourism, marina, emergency parachutes and Nebraskan beef.
Students designed marketing and business plans for sailboat marinas and examined Nebraskan exports in specific business administration courses the fall semester before the trip.
Shaina Lusienski, a junior international business major, said the study abroad trip to Panama was amazing because it was culturally enriching, and complemented her education as an international business student. Lusienski said she learned about cultural awareness, her role as a global citizen and international business proposals.
"Presenting business proposals to international business professionals in a different country was a very unique opportunity that I learned a lot from," she said.
Lusienski said her team developed a plan for an emergency parachute system for high-rise building residents.
The product was called the "Parasuit." Lusienski said Panama City has the third-most number of skyscrapers from all cities in North America, and firemen can't get above a certain floor of buildings in emergency situations.
"So our product, the Parasuit, would enable the people in the tall buildings to jump out in case of an emergency," she said, "The parachute would deploy itself so the user doesn't have to have any jumping experience."
Jaime Figueroa, a UNL CBA 1977 graduate who now works in international investments in Panama, has volunteered each of the trip's three years to welcome the students, present an introductory conference to Panama and help the students during their visit.
According to Figueroa, Panama has many opportunities for smart individuals with appetites for tropical lifestyles and global connections.
Panama uses the U.S. dollar, but Figueroa said the currency does not experience fluctuations and is subject to generous laws to incentivize foreign investments.
"These factors truly open the eyes of visiting students as to the possibilities beyond America´s frontiers in a highly developed and inviting environment," he said in an email.
Category Spanish | Tags:
---
Sorry, comments are closed.